Accurate Health Auditing & Consulting S.A. was created by bringing together leading health care professionals, with years of practical extensive experience in implementing successful health care management programs that lead to the improvement of the quality and efficacy of patient treatment and care and at the same time deliver cost effective health care services.
Sotiris Papaspyropoulos, MD, MSc,
Chairman & Chief Executive Officer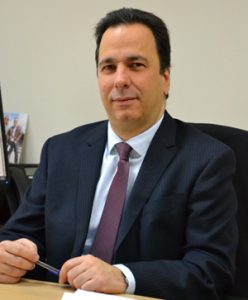 In 2000, Sotiris Papaspyropoulos founded Accurate Health Auditing & Consulting S.A, and he continues to serve today as the President and CEO of the company.
Under his direction, ACCURATE has grown to become a leader in providing Auditing services in Greece.
He previously founded the Greek Section of "Médecins Sans Frontières", and served from 1990 to 1996 as President and General Director, and from 1996 to 2000 as Honorary President. He also served as a Field Doctor and Head of Mission for three years in developing countries. From 2000 to 2004, he worked as a health expert for the Ministries of Internal Affairs and Environmental & Public Works.
Mr. Papaspyropoulos also held a number of managerial positions in the Private Sector, including Member of the Board of SOS Doctors S.A. from 1994 to 1998, and Medical Director of SmithKline Beecham from 1998 to 2000.
Since 2006, he also serves as the General Manager of the Hellenic Healthy Cities Network, recently accredited by WHO. Additionally, he maintains positions in the Board of various volunteer organizations, including the European Business Ethics Network-Greek Branch.
Mr. Papaspyropoulos is a Medical Doctor who graduated from the Athens University Medical School, with a specialization in Psychiatry. He also completed his studies in psychology and sociology in France (Université de Reims et Université de Strasbourg) and holds an MSc in Public Health from the National School of Public Health in Athens.
Thanassis Papamichos, MSc, PhD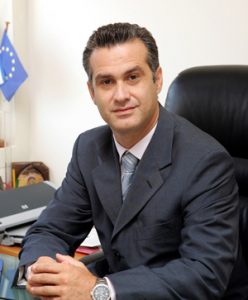 Thanassis Papamichos joined ACCURATE in his current role in 2010. Since his leadership began, Accurate has advanced its position as a leading provider of auditing services for healthcare companies and government agencies. Mr. Papamichos focuses on enhancing the firm's strategy and business development activities, and continues the company's push for innovation. This work leverages his 18 years of experience in the Health Care Sector and prior senior leadership roles for public and private employers, where he has worked closely with hospitals, government programs, integrated delivery systems, and NGO Health organizations.
Prior to joining ACCURATE, he was the General Manager of Strategic Planning and Development of the Athens Medical Group, the largest healthcare company in Greece. Prior to that he served as President and CEO of Health Units S.A. a state owned company of the Ministry of Health and Social Solidarity, Deputy Managing Director for K.A.T. Hospital of Attica, Chairman and Managing Director of the Karpenissi Hospital. Earlier in his career, Mr. Papamichos served as the General Director of Médecins Sans Frontières (MSF) (Doctors Without Borders) Greece from 1995 to 2001, where he oversaw missions for over 10 countries.
Outside of Accurate, Mr. Papamichos is currently President elect of the Hellenic Association of Health Management. Active in civic and professional affairs, Mr. Papamichos is also involved in a variety of volunteer based organizations.
Mr. Papamichos holds a Ph.D. in "Health Services Management", from the University of Peloponnese, an MSc in "Health Policy, Planning and Financing" from the London School of Economics and the London School of Hygiene & Tropical Medicine, and an undergraduate degree in Occupational.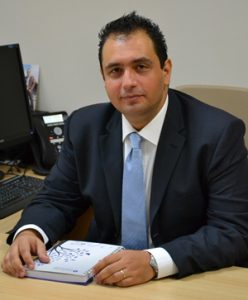 Kostas Katsiabanis, M.D. is Medical Director for ACCURATE, since March of 2010. In this role Dr. Katsiabanis works with clients and coordinates ACCURATE's Medical team to implement successful clinical audits, medical necessity, and medical appropriateness of treatment programs. He also participates in the analysis, reporting and benchmarking of outcomes and quality improvement initiatives, the development of educational and training programs that update the clinical knowledge and skills of medical auditors; and the provision of expertise that enhances the medical bill review process. In this role he also oversees the physician peer review service and ACCURATE's medical cost containment programs.
Dr. Katsiabanis has years of extensive clinical and administrative experience in the practice of Medical Auditing, as an expert on the efficacy of patient treatment and care and the provision of clinical and analytical expertise for a wide variety of claim management and medical management programs, including the development of medical forensic reports for use in court and other legal proceedings.
Prior to joining ACCURATE, he was responsible for Medical Auditing for five years for another Third Party Administrator, Mednet. He also worked on behalf of leading private Insurance carriers, including ING, INTERAMERICAN, ALLIANZ, INTERASCO and EMPORIKI LIFE in Greece and Cyprus.
He received his medical degree from the Medical School of Athens, with a specialization in Forensic Science, from the Laboratory of Forensic Medicine and Toxicology of the Medical University of Athens. His clinical training also included the completion of many courses regarding Medical Liability and classification of diseases and causes of death by ICD9 and ICD10 and drug use. Dr. Katsiabanis is a member of the American Association of Healthcare Internal Auditors (AHIA).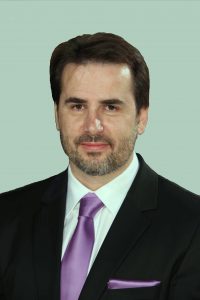 Panos Panagiotopoulos is serving as Chief Operating Officer of Accurate since January 2014. Mr Panagiotopoulos role is to enforce the company's policies and procedures, manage human and material resources, to ensure customers' satisfaction, maintain high employee morale, and company profitability. He is responsible for the day-to-day operations, seeing that the organization's strategic initiatives are carried out through its daily activities. He is in regular contact with physicians & administrative personnel, building relationships, monitoring performance and taking action when there are problems.
Hospital and health care manager, having 12 years of experience in managing health care services. Well networked and highly successful in implementing business process improvements, achieving goals, change and optimising business procedures.
Before joining Accurate, Mr Panagiotopoulos served for about four years as Deputy CEO & Vice President of Hippocratio General Hospital of Athens. Prior to that role, he has held many Health Care Executive positions in Hospitals of the Greek Private Health Care sector including Hygeia Hospital & Central Clinic of Athens.
Mr Panagiotopoulos has an MSc in "Applied Economics and Finance" from Athens University of Economics and Business, an MBA degree & a bachelor degree in "Management Science with Computing" from Kent University of Canterbury.
From August 2012 participates in a Research Doctoral Program (PhD) in Health Economics of the Medical School of Athens University.